New to Thankyou Payroll? Or just want a reminder on how to set up an employee's profile? This guide will tell you how.
Prior to setting up an employee, you must have the basic mandatory details about the employee on hand. Some of the sections in an employee's profile will not allow you to save and move to the next page unless all the details have been entered correctly.
To get started, you should have:
The employee's first and the last name
The employee's start date
The employee's IRD number
The employee's name on the bank account
The employee's bank account number
The employee's email address for payslips to be emailed to
The employee's pay rate
The employee's tax code
The employee's (KS2) and employers KS contribution rate
The agreed leave method by both the parties. If you are unsure on this, please contact Employment New Zealand website for assistance.
Let's start
To begin setting up a new employee log in and click on "employees" from the top menu. Choose "add new employee".
Once you have clicked on "add new employee" this will take you to the Employee Profile screen where you will complete the employee's details. Make sure to click "save" or "save + next" after each page.
You can navigate away from editing employees at any time by clicking on any of the menus at the top of the screen.

Employee Profile
Enter all your employee's basic details like, name, IRD number, start date, employee's bank account details, address for emails. Everything marked with a red asterisk is mandatory.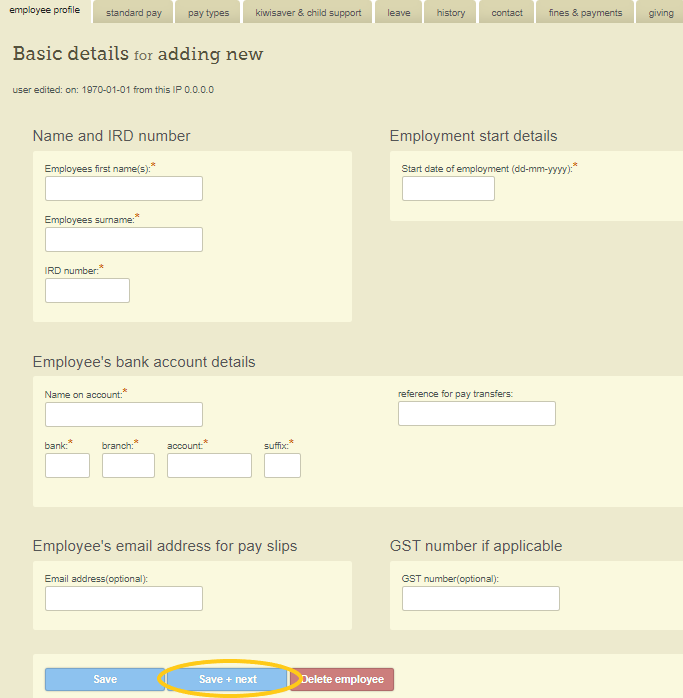 Standard Pay
On the standard pay page you will complete details for Standard Pay (Pay rate), Tax code, employee standard pay options.
If you select to not record hours worked for a salaried employee then the employee will get paid the same amount each day. If you select to record hours worked each day then you will need to enter the number of hours into each box on the timesheet.
If you have an employee that works the same hours each week you can "set default entries for standard pay row of timesheet".
In this example, the employee is salaried, and gets paid the same amount each day, regardless of how many hours she works.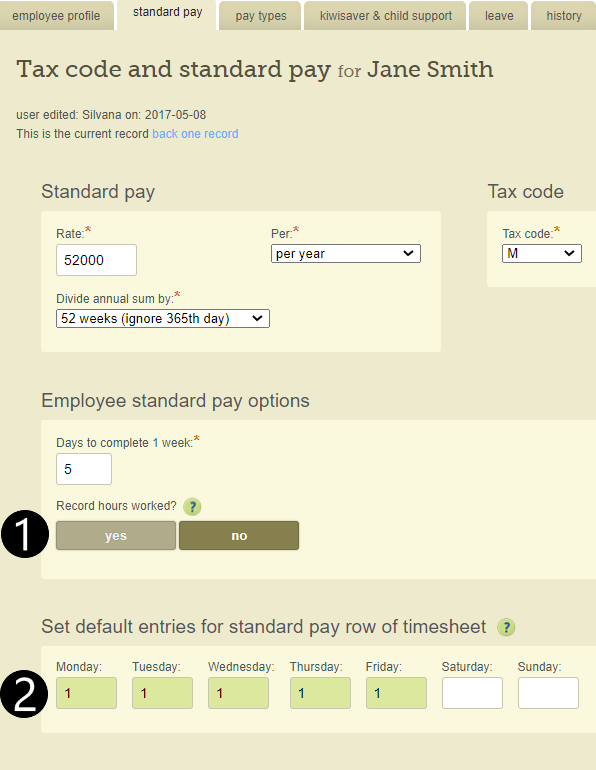 In the example below, the employee is paid hourly and works different hours over the week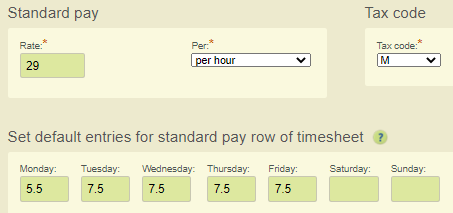 Please note, you could potentially have an employee's working variable hours over the week on a rostered pattern. If they are paid hourly, you do not have to enter it as default. Default entry is to be used for employees that work set hours for set number of days over a week.
Pay Types
This is where you can set up extra payments or customise your own pay types that fall outside of normal salary or wages. These could be for allowances and deductions such as phone bills, accommodation, tools, or food.
You can also use this to pay back pay or correction pays, bonuses, other pay rates (for example if they get paid $22 per hour for puppy walking and $25 for puppy supervising) etc.
These can be set up as taxable or non taxable.
See Creating a custom Pay Type for more details.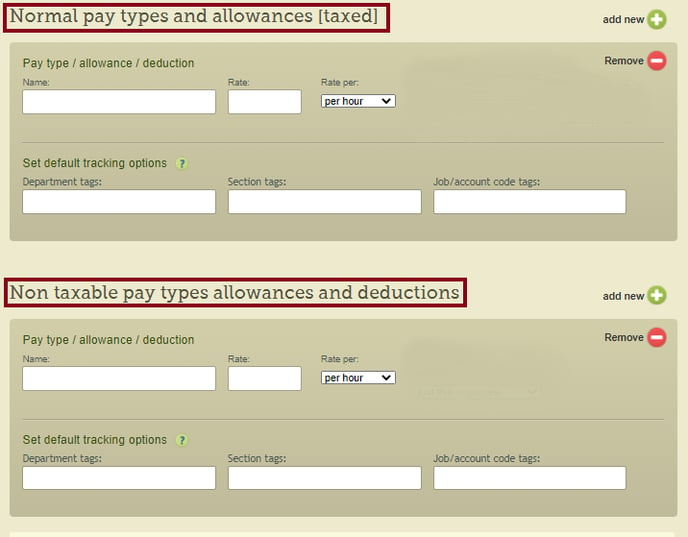 KiwiSaver and Child Support
The KiwiSaver contribution rate boxes can either be left blank or have a rate added to it. The boxes cannot have a 0 (zero) in them.
Enter a rate for employee and employer KiwiSaver contributions. If the employee has opted out of KiwiSaver just leave these fields blank.
ESCT is calculated based on the closest guess of the employee's total annual income from all sources.
You should make sure that you choose the correct setting for how the employer contributions should be treated, based on your employment contract.
Child support contribution rates should only be added if applicable. Any child support payments will get paid to IRD when we process your filing.
If your employee does not use KiwiSaver, but has a different superannuation fund that they pay into, you can enter those details here.



Leave
The leave page is where a lot of errors can occur and is one of the most critical part of an employee's profile page.
Setting up the leave incorrectly can cause problems later down the road and is best if it is set correctly from the start. Changing leave methods after pays have been processed can also cause calculation problems. If you are not 100% sure you have this correct you should contact Employment New Zealand on 0800 20 90 20 or give our friendly help desk team a call on 0800 895 146 and they will only be more than happy to guide you here.
1. Select the method of annual leave that reflects your employee's contract. The next fields you need to complete will depend on what leave method you have selected. It is important to get these settings correct, so read the notes carefully. The darker coloured button is the one that is selected.
Check out these pages for further information on these different methods
Setting Leave for a Permanent employee
Setting leave for a fixed term/casual employee
2. The annual leave anniversary is usually the employee's start date, and the date of most recent addition of leave will usually be the latest leave anniversary before joining Thankyou Payroll. For new employees both dates will be the same as their start date in most cases.
3. Sick leave will start with the minimum days, maximum balance, carry over ceiling as per the holidays act. When setting "date of the most recent addition of sick leave (before using TYP)" this will be the last sick leave anniversary the employee would have been allocated sick leave outside of Thankyou Payroll, or their start date if they have not reached 6 months of employment yet. If your employee is new and has just started, the anniversary date will be the same as their start date.
4. If your employee has moved from another system they may have alternative days of leave owing. If not, leave this blank.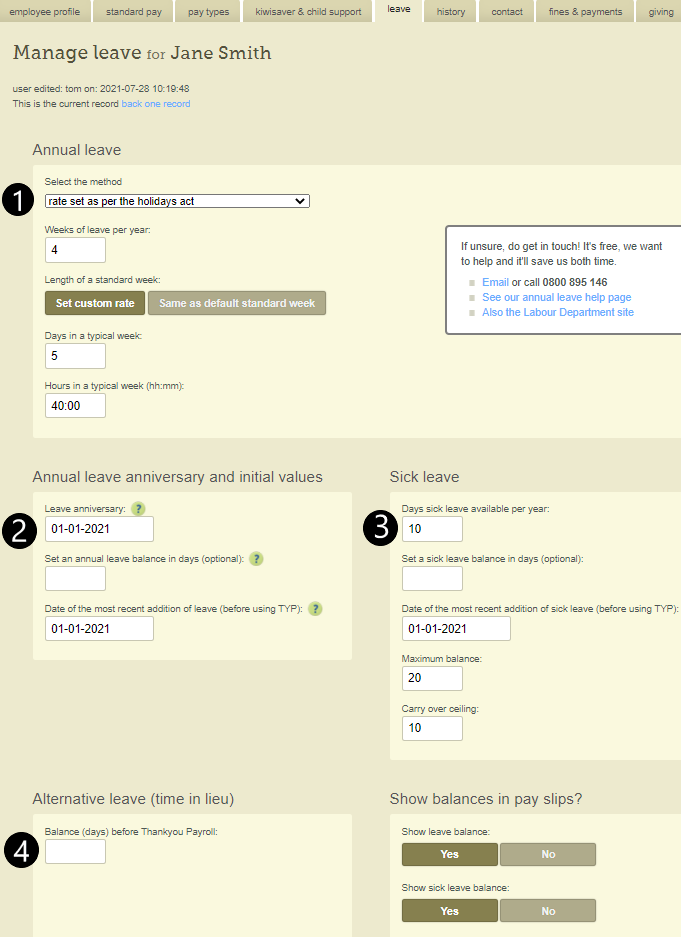 History
We'll need some pay history if you have selected the "rate set as per the holidays act" leave method and have an employee who is coming into our system from another. To accurately calculate accrued leave you will need to enter gross amounts for each pay period back to their last leave anniversary before coming to TYP, this should match their start day and month.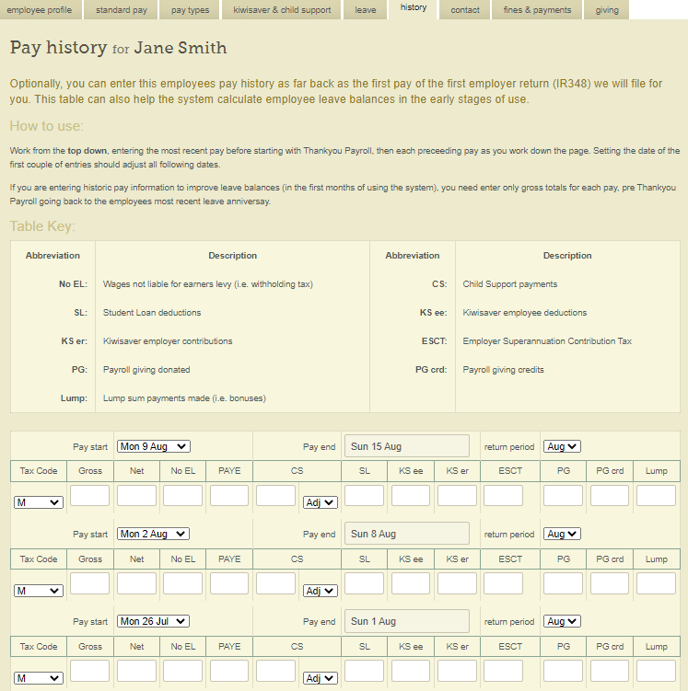 Contact
The contact page can be used for internal or organisational reference.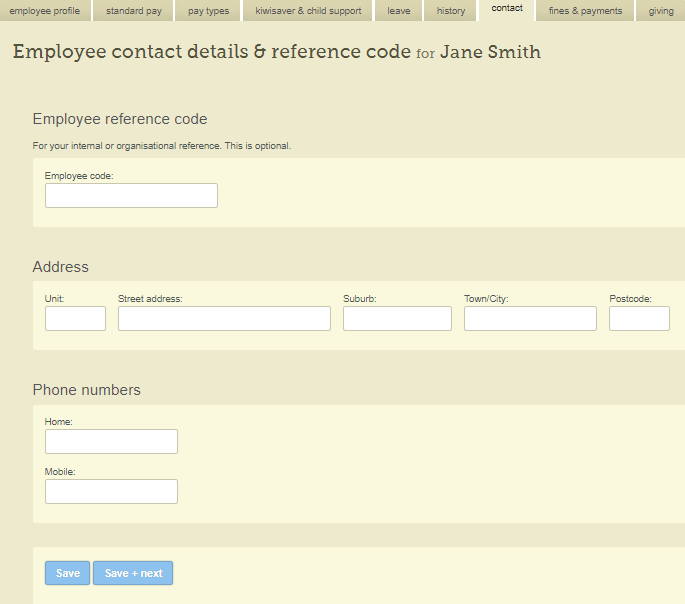 Fines & Payments
1. The fines & payment pages can be used for entering any Ministry of Justice fines. For more information see Payments to MOJ
2. Also if the employee wishes to have some of their pay paid into another one of their own personal accounts after tax you can enter their other bank account number here. Please note this will not show on their payslip and should only be used to split funds between accounts the employee owns.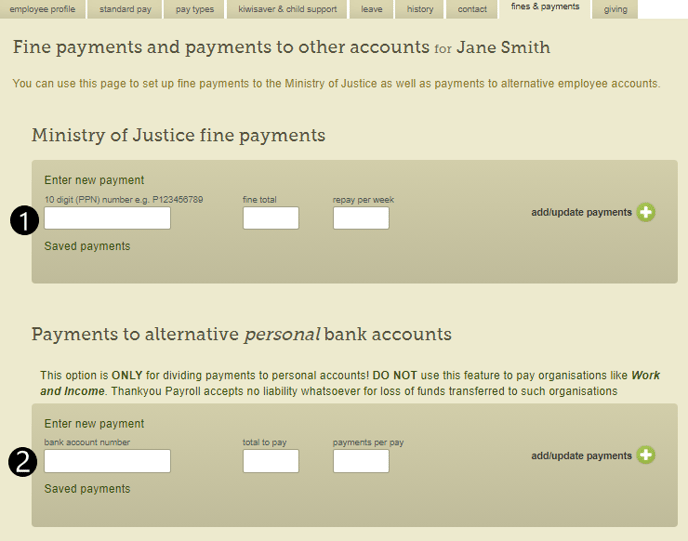 Giving
Payroll Giving is optional but if your employee wishes to donate to a favourite cause or charity then its as simple as selecting "Yes" and typing in the name. You can learn more about payroll giving (and how awesome it is)
here
.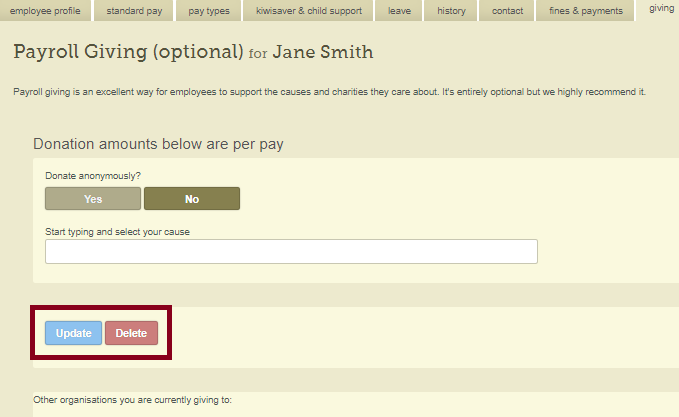 You have now come to the end of the employee profile set up you are now ready to include this employee in a Pay.
You can navigate away from this screen by clicking on any of the menus at the top of the screen after all the information added have been saved.