Do you need to run a pay? Here's how:
What you'll need:
The hours your employees have worked each day, in the last pay period.
A record of any leave taken in that time
Access to online banking for your business or organisation
Let's get started
Here is a link to a comprehensive video that will show you how you can create your pay, what amount is needed to fund the pay and where to look for the amounts.
Create a new pay by using the green 'Create a new pay' button on the top right hand side of the dashboard.

Note other key information in the dashboard header:
Your 'payroll' name
Our bank account number (note: the suffix is 02). You'll need this when you deposit funds in our account so we can pay your employees
Your reference number. This is very important! Every bank deposit to us needs this number!
1. Check Dates
Check your Pay Day and 'Pay Period' dates are correct. If not click the calendar icon to change. You can manually amend pay days and pay periods. Pay day will always be a future date but the pay period can be a past period date.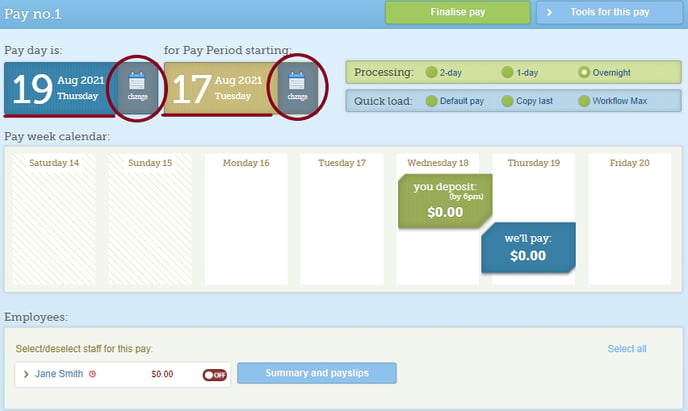 2. Add the employees you need to pay
Switch the employees "on" to add them to this pay.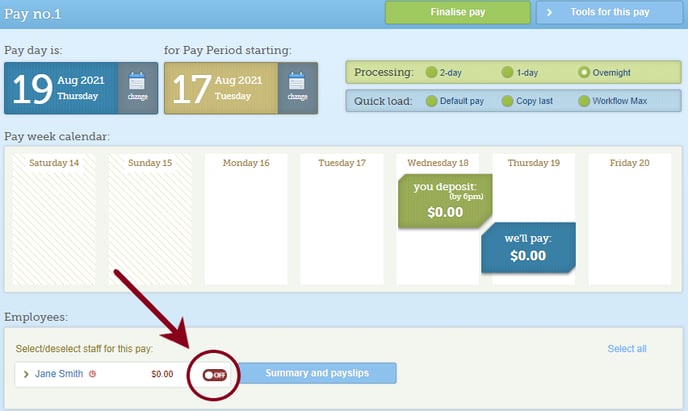 3. Go to each employee's timesheet to add time worked
Click on the employee's name to go to their timesheet (one at a time)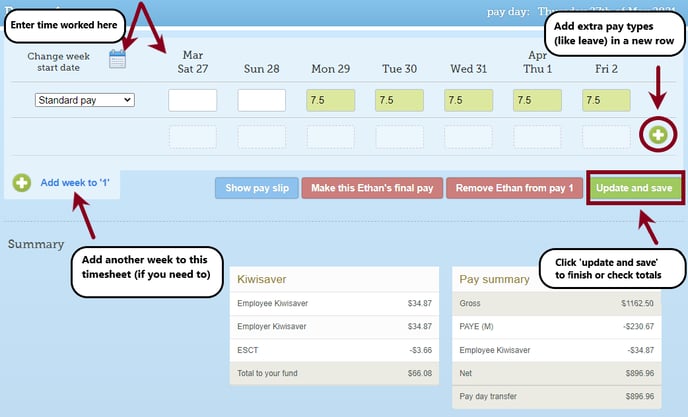 Once you're in the timesheet, enter the time the employee worked on each day. If the hours have been set by default in the employee's profile, the system will add these to the timesheet for you. Click, 'Update and save' when you're done.
Click on the next employee's name to go directly to their timesheet.
4. Go back to the dashboard
Navigate back to the Dashboard by clicking "Dashboard"

Once you have completed all your required timesheets, return to the Dashboard via the main menu.
5. Dashboard summary and key information
The last thing to do is check everything and fund your pay. You'll need the following information: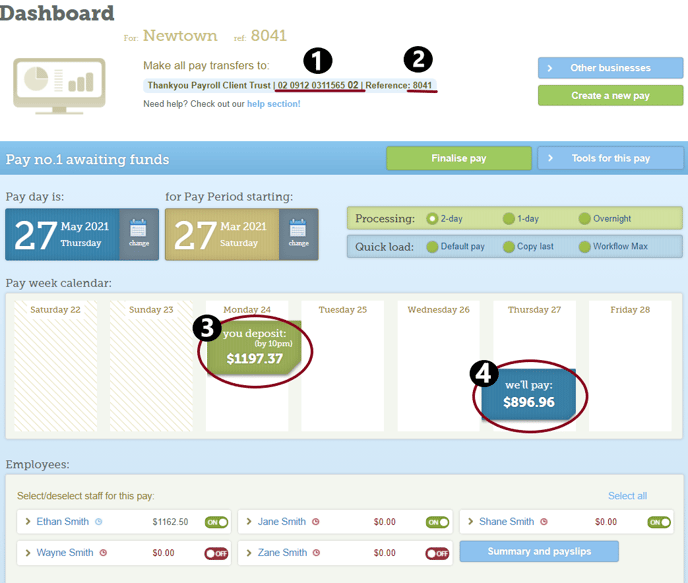 You can always see our trust bank account number in the Dashboard header. Deposit funds for your pays pay to this account. Note the suffix is 02.
This is your client reference number. You MUST include it in the deposit details of any deposit you send to us, or we won't know where the funds have come from! If we can't track deposited funds to your account, your pay will not run.
See how much to deposit into our trust account, on the 'Pay week calendar' where is says 'You deposit'. In this example the latest you should make this deposit is 10pm on Monday night.
See when we'll pay your employees. Note that the amount is less than your deposit because we'll also be paying the IRD each employees PAYE total and filing their returns for each pay day. This is all part of the service.
Remember your deposit must include your client reference number so we know it is for your account.
Please only use bank transfers (i.e. your bank transfers to our bank) to fund pays. Never use cash deposits - we get charged considerable fees for cash transactions and in turn, we will be forced to charge you.
Now sit back put your feet up and we will process your pay for you and file PAYE with the IRD on your behalf.
Are there any shortcuts?
There are several tools you can use to make loading pays easier.

You can create default pays based on the standard pay row of a timesheet in each employee's profile - useful if employees work the same hours each week.
You can copy the last week. Be careful you're not copying leave entered in the previous week!
Import timesheets from Workflow Max.
There's also:
Pay automation
If your pays are exactly the same each week, you can use pay automation to load a default timesheet as soon as the money hits our bank account. With pay automation, the system will generate timesheet based on the default setting and pay the employee's without you having to enter them manually.
Direct Debit
If you don't feel like using internet banking each time you can set up direct debiting, where you authorise us to withdraw the correct funds from your account for each pay - easy! Find out how to set up direct debits here.
How do I tell my pay is funded?
Once we have received your deposit and tracked it to your account, you'll see an orange ribbon show up on the blue 'we'll pay' box.

If you transfer more than required, or adjust the timesheets so that fewer funds are required you will see a credit on your dashboard after the pay has processed.