Entering Previous Pay history for an employee
Unless your organisation is new, enter your employee's previous history to establish annual leave accrual balances and average daily rates. If you have joined Thankyou Payroll part way through a month, you can also fill in your pay details to help us file accurately for you. See notes at the bottom of the page.
How to find Pay History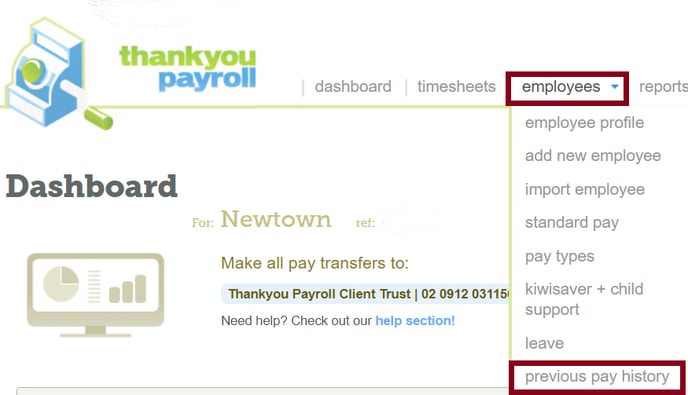 Select "previous pay history" from the drop-down menu at the top of the page
How to use the Pay History section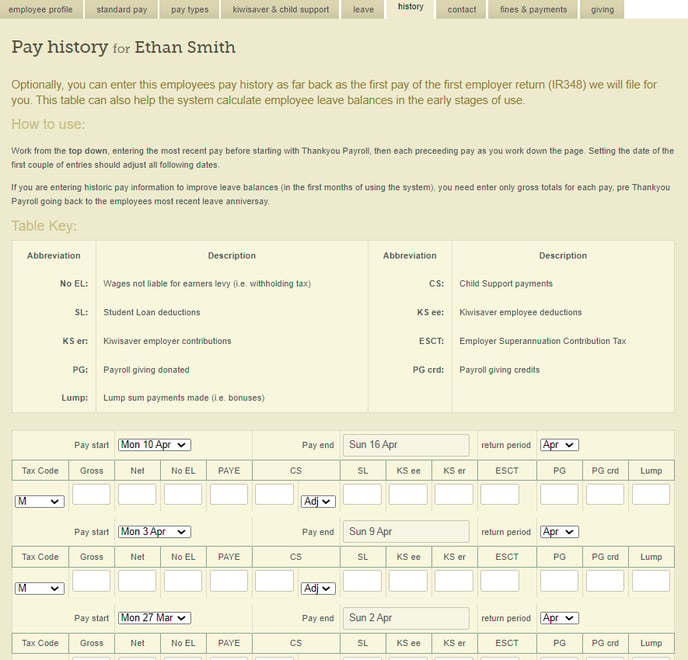 For Thankyou Payroll to calculate the rate at which to pay annual leave, as per the holidays act, we need the pay history for an entire year. As an alternative to this, most clients are happy to enter the average weekly rate manually for each individual leave calculation until our system has built up the necessary data.
This page is also helpful for calculating a full months return if you have started using Thankyou Payroll part way through a PAYE return period (calendar month). Please enter all the pay information, including all deductions like KS (KiwiSaver) and ESCT and tag it to the return month you want it to be included in. Then contact returns@thankyoupayroll.co.nz to get the amount to transfer to cover PAYE.
Filling in this page is not mandatory, but it can save you money and time in the long run.
Remember to save at changes at the bottom of the page.