Pay automation is a tool that automates your regular payments to employees.
It involves entering default settings for each employee, then setting up an automatic payment to our Client Trust Account so our system can create and process pay runs for you without you creating a pay and setting up timesheets.
Please note: pay automation will only work if all of your employees are paid the same amount and on the same day each pay cycle.
Pay automation will not work if your employee's wages fluctuate each pay period, or you have different pay cycles for different employees.
Setting up pay automation
1. Set your default pay day/pay cycle settings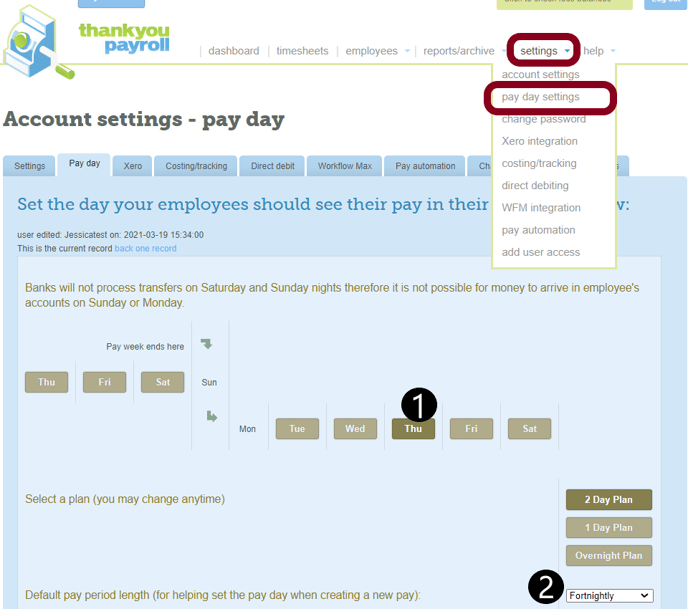 Head to account settings > pay day settings and make sure your default pay day (1) and pay period (2) are set correctly. All employees must conform to these settings for pay automation to work.
Hit 'update' at the bottom left of the page.
2. Set your employees' standard pay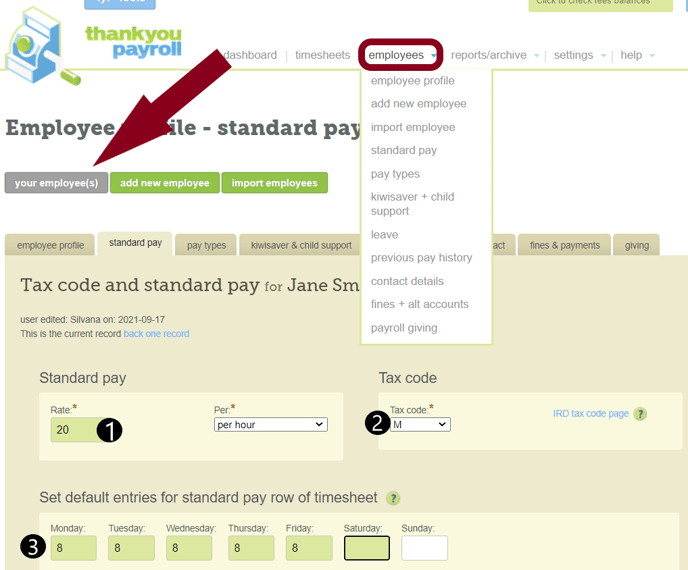 Double-check your employees' standard pay settings under
employees > your employees > employee name > standard pay.
Refer to the
standard pay settings
guide for for information regarding different standard pay options.
1. Check the pay rate is correct.
2. Check the tax code is correct.
3. Check the default entries are correct. The system uses the default entries here to create the employee's timesheet. In the example above, the employee's gross will be 20 X (8x5) = $800.
If you've made any changes, make sure to hit 'save' at the bottom left of the page.
Pay automation will only work if you have set the default entries under the stand pay tab, this will not work with variable hours if not recorded as default.
3. Create a template pay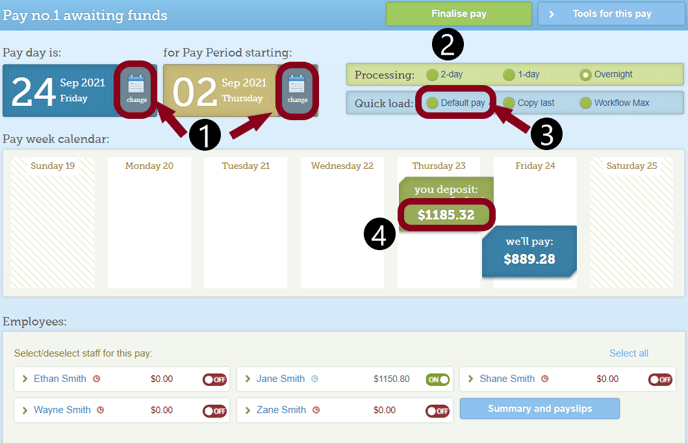 On the dashboard, click the '
create a new pay'
button. This pay will act as a template for the following pays which will be automated.
1. Check the pay day and pay period dates are correct. You can change these using the calendar icons if necessary.
2. Choose the 'plan type'.

3. Click 'default pay' to create a pay based on your employees' standard pay settings.
4. Check the 'you deposit' total. This is the amount and day of the week you will need to set up an automatic payment for. Using the above screenshot as an example, the AP would need to be set up on a Thursday for a pay day of Friday on the overnight plan.
Please note: you may need to manually alter your automatic payment in the event of a public holiday. This depends on which day your pay day falls after or prior to the public holiday. We send a notification via email to inform you of this as well.
4. Activate pay automation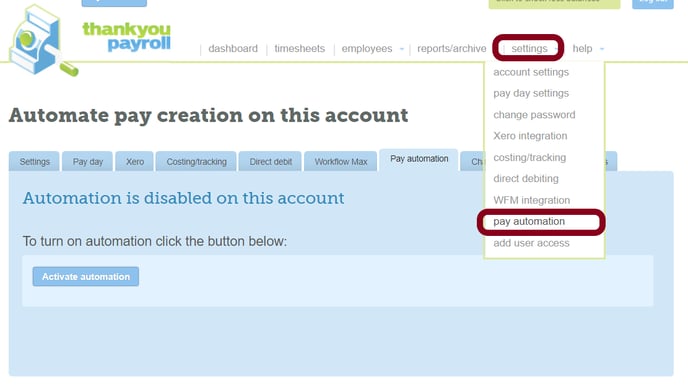 Head to
account settings > pay automation
and click
activate automation.
The Direct Debit function will not work with pay automation.
Correction Timesheets/one-off pays
If you process a correction pay or any one-off payment, you will have to create a pay to ensure the pay gets processed on the day as planned. Doing this may throw your automation cycle out sync. For the pay automation cycle to continue, follow the process of creating a template pay, setting the correct dates and using the default pay option.
If you are unsure of this process, please contact our helpdesk team on 0800 895 146 for assistance.