To simplify your payroll, you can set up direct debiting.
If you set up a direct debit for your account, we will then be able to deduct the funds for your wages and/or fees directly from your nominated bank account.
You can set up the direct debit in your Thankyou Payroll account yourself, although our Support Team will just need to verify the direct debit before it becomes active.
Direct debits can only be set up by users authorised by the account signatory.
Add your Bank Details
We need to have your account information so we can activate the direct debit authority.
Click on Settings in the main menu and select Account Settings from the drop down menu.
Scroll down the page and you'll see the option to add your bank details to your Thankyou Payroll account.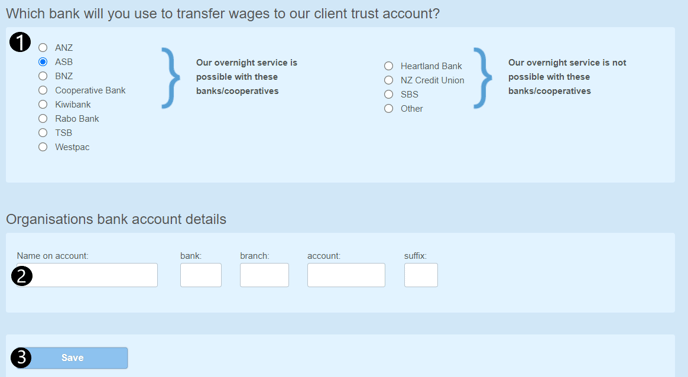 Complete the Direct Debit Authority
Click on Settings in the main menu and select Direct Debiting from the drop down menu.
Here you can read all about direct debiting so that you know what to expect.
You'll be asked to add an email address for direct debit notifications. This will be used to notify you when your account will be debited and also when changes have been made to the direct debit.
Then you can select whether to set up the direct debit for your Thankyou Payroll fees and/or wages. We recommend using the direct debit for both, as it means your payments will process automatically - giving you two less thing to worry about.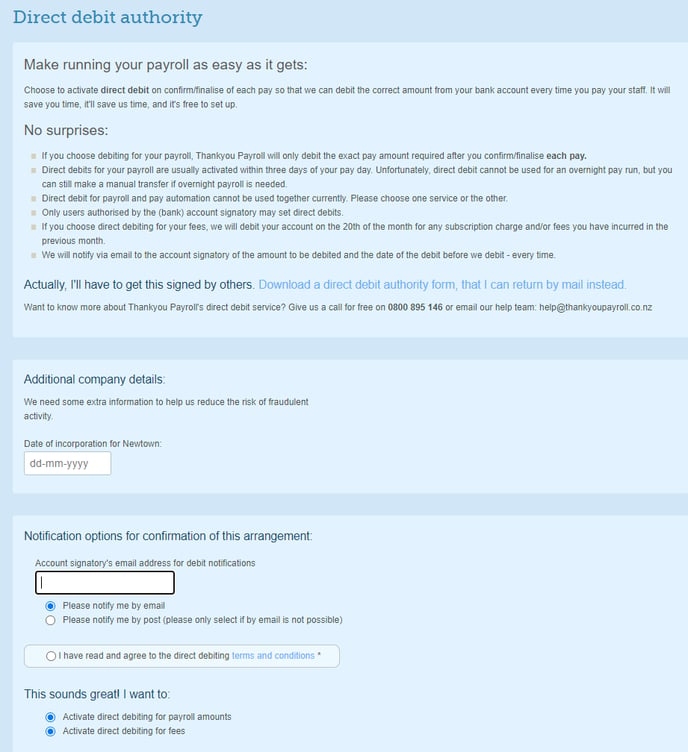 Only someone with signing authority on the bank account you are entering should be setting this up.
You will be asked to confirm that you have signing authority before you click Confirm Direct Debit Activation.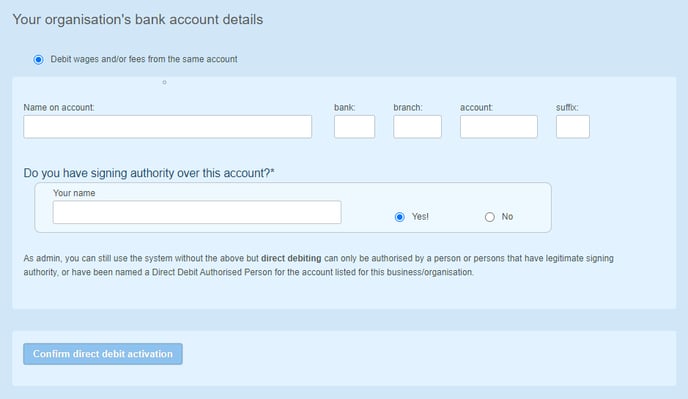 Verifying Your Direct Debit
Once you've added your direct debit details, you will receive an email confirmation. However your account will not yet be verified.
You will see a message on the Direct Debit page of your Account Settings advising you of this.

To verify your direct debit, you will need to email our Customer Support Team and send them a screenshot of the top of your most recent bank account statement. You do not need to include any transactions - we just need to see the account number and the name of the authorised person.
This step ensures that we are direct debiting the correct account and prevent any fraudulent activity for all of our customers.
Our team will delete the evidence you send across, 1 month after receiving it.
Once verified, you will also be able to see that your dashboard will change and the "Finalise pay" button will become a "Confirm and debit" button.

When this button is clicked it will set the debit and the funds will be taken from your account based on your plan type.
For example, if you are on a 2-day plan the funds will be deducted from your account 3 working days before the pay day, so they are in our account 2 working days before the pay day. Your fees will remain the same as long as you confirm and debit in time.
Please note direct debit cannot be used for overnight pays. If you need to do an overnight pay you will need to use internet banking.