Whether an employee receives redundancy payment is dependent on the applicable employment agreement and is a matter for negotiation between the parties.
How to enter Redundancy pays in the timesheet?
Create a pay like you would normally do to run a pay on the dashboard. Switch the timesheet on for the employee concerned and click on the name to go to the timesheet entry and reporting page.
Enter any standard hours that employee may have worked for until the last working day
Calculate the amount of days or weeks that you would be paying as redundancy pay in a dollar value
Add a new row to the timesheet using the green plus button on the right hand side
Select the pay type "Redundancy"
Enter the whole dollar amount for the value that you would have calculated for the period agreed to be paid
Update and save the entries made
Use the "Make this (Employees name's) final pay" button to create a final pay

What now?
After you have created the final pay, the system calculates the total amount owed to the employee and does a final pay out. All the tax will be calculated accordingly and a final net transfer amount will be shown in the pay summary.
If there are any Alt days owed to the employee, these needs to be added to the timesheet prior to creating a final pay.
Add a new row by using the green plus button on the right hand side
Select the pay type "Alt Hol [-]" and enter the normal hours that person would work for those days.
Update and save
Make this the final pay
The example below shows the employee has 3 days of Alt Hol owing, these will be added to Monday (7.5hrs), Tuesday (7.5hrs) and Wednesday (7.5hrs) respectively with the hours this person works for those days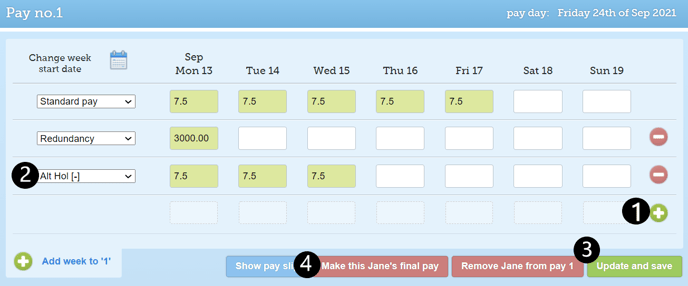 You can now return to the dashboard. Once this pay has been processed and paid out, the employee will be removed from the active list and archived.