Holiday pay is a leave type specifically designed for employees that are temporary or irregular, in terms of their hours or contract. Holiday Pay is calculated at 8% of gross income, unless otherwise agreed contractually and is always balanced and paid in dollars (as opposed to hours or days).
Paying out Holiday pay
1. Select 'Holiday Pay ($)' as above. Note that it has a $ sign in brackets. This indicates that you must add a dollar amount to pay out (not hours).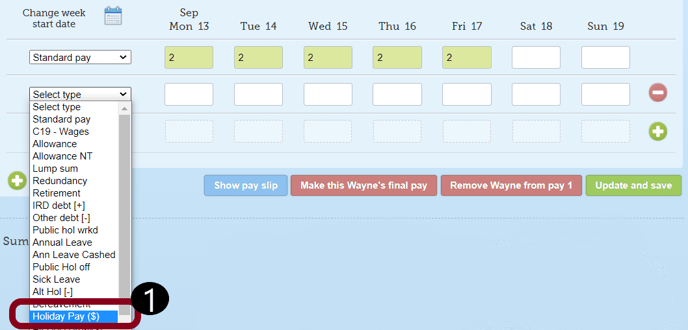 Enter the dollar amount to pay to your employee. (don't include '$') Instead of a bulk amount you can also enter the daily rate found under "rate:" in the Leave Liability into each day that leave is taken.
Click 'Update and save'

You can scroll beneath the timesheet to the Leave Liability table to see that the holiday pay owing will now have reduced by the amount entered into the timesheet.