This option is for existing users that already have access to Thankyou Payroll but would like to be added to another account.
A user of the account they wish to be added to will need to action the following.

Select
"add user access"
from the drop-down menu at the top of the page.
This will take you to the Account setup page-Add new user.
There are only 2 steps required to enter the current user to be added to an account.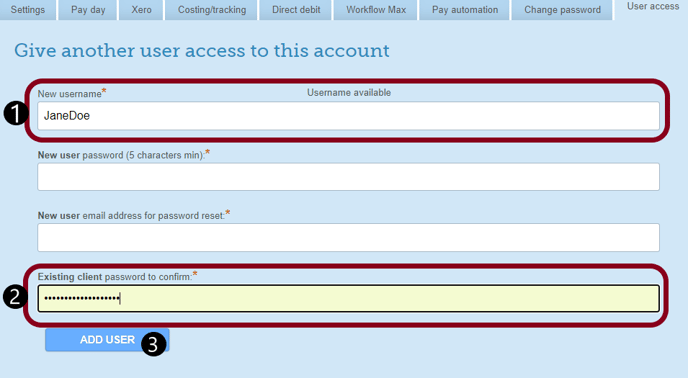 Enter the existing "username"
Enter your password to approve the addition of a user.
Select "add user", and you're done!
Please note that if the username is already active in our system, you will get the below message.
This username is active, please contact our support team at help@thankyoupayroll.co.nz
Make sure you see the message in red to confirm they have been added.
"The user has been given access. They can switch between payrolls via the 'other businesses' tab on the dashboard."
How will the Existing user know that they are added to this account.
When they log in as usual they will then see on the dashboard under "other businesses" on the right hand side, a list of accounts they have access to.